Nobis soul
"We like to challenge our guests with cocktail flavors out of their comfort zone"
Meet Linus Eklund-O'Reilly, Bar Master at Miss Clara Cocktail Bar.
At the cocktail bar in Miss Clara Hotel, Bar Master Linus Eklund-O'Reilly, sommelier Mark Öberg and their colleagues combine experience from London, New York and other metropolises around the world with their own personal style and tastes in the creation of an original cocktail concept developed in close collaboration with Head Chef Daniel Guest and the Miss Clara Restaurant cuisine.
Linus Eklund O'Reilly, who worked as a bartender in various cocktail bars in London, Bristol, Dublin and the English countryside before returning to Stockholm, describes this concept as contemporary international, with a philosophy of minimum waste that the bar shares with the kitchen.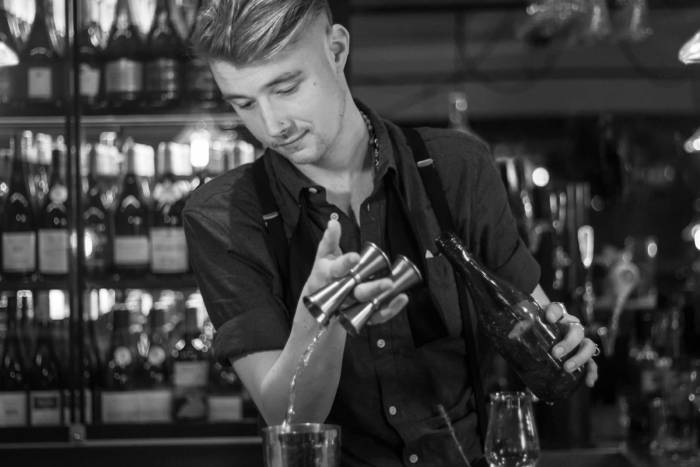 "I like to serve unexpected experiences with the cocktails — something exciting should happen when you enjoy your drink."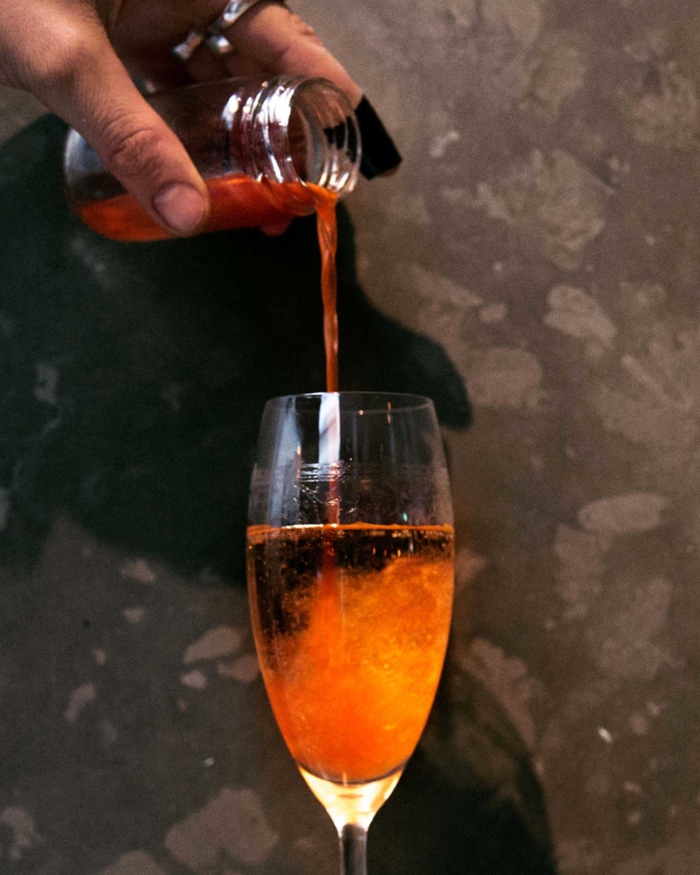 The signature Bellini Minos
"We like to work with fresh ingredients in season and to really challenge our guests' taste buds," says Linus. "I wish that we could work even more consequently with this concept, with a fixed cocktail menu, like that in the restaurant, and for example not serve a Moijito with mint when that herb is not in season. Unfortunately this is not yet quite possible here in Stockholm, even if the cocktail culture has evolved, since the guests still expect to be able to always order any drink they want in a bar."
The policy of minimum waste is manifested in that the bartenders make most all the drink ingredients themselves by hand, using every part of the ingredients as far as possible. For example, they make a "Cutting board cordial", using all the waste from the citrus cutting board every day which are vacuumed and prepared using modern techniques and turned into a cocktail mixing syrup."
 "We never use industrial ingredients when we can make them ourselves and we never work with industrially refined products when we can avoid them. For sourness, we use alternative ingredients such as schubb vinegar and traditional old fashioned verjus, made from grapes, rhubarbs and other fruits and vegetables, when citrus is not in season. I can say that we can answer in detail for almost everything we use in the bar except perhaps for the booze…"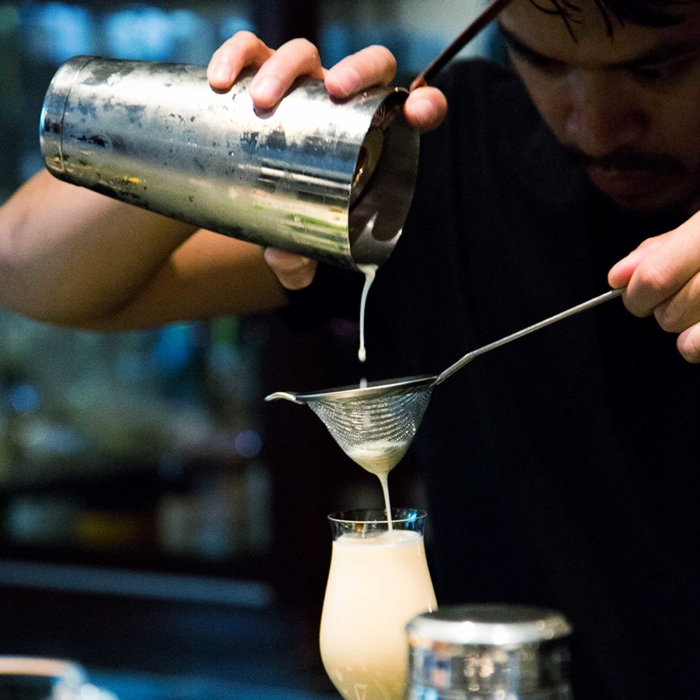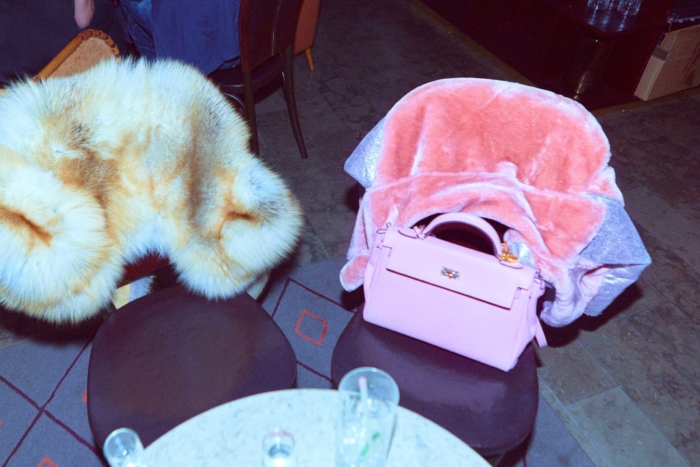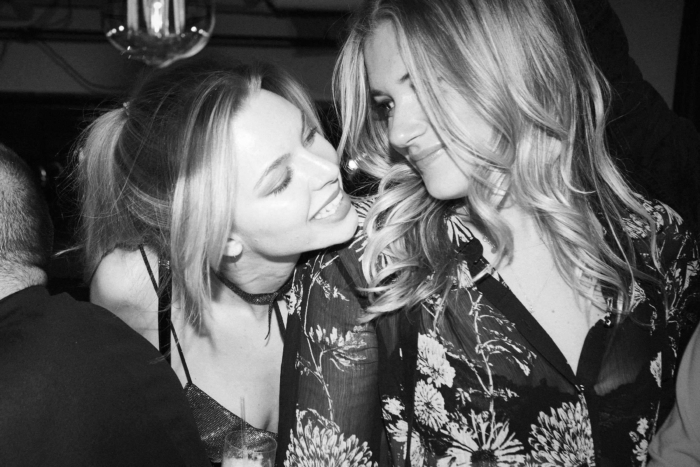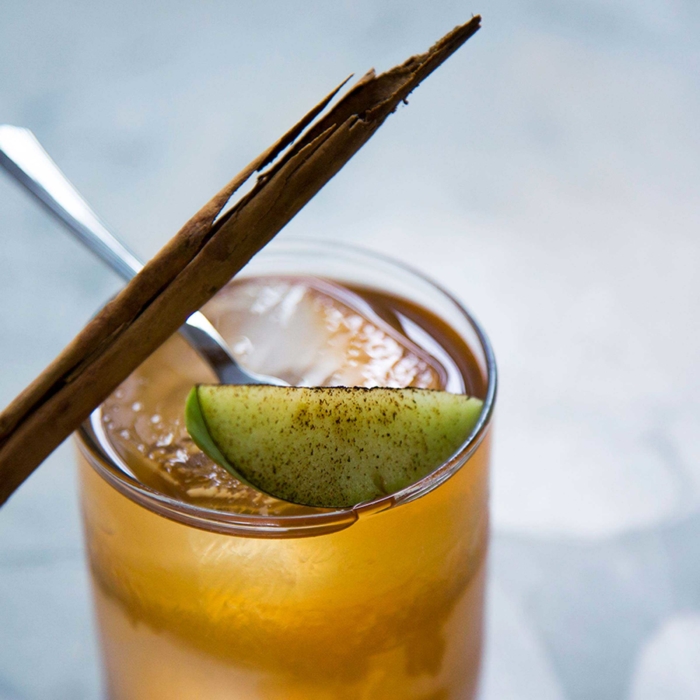 The Miss Clara Cocktail Bar's signature cocktail Bellini Minos vividly illustrates the bar philosophy and spirit, made with sec champagne flavored with a secret mix of peach and elder. A special formula is added that makes the cocktail sparkle and bubble mystically until the cocktail is finished. The beautifully dark golden Bellini is inspired by the second circuit in Dante's Inferno, that of lust…
"I like to serve unexpected experiences with the cocktails — something exciting should happen when you enjoy your drink," says Linus Eklund-O'Reilly. "A problem in Stockholm compared with other cities is of course that prices for cocktails are somewhat higher. Here we still have to educate the audience that it's worth paying a bit more for a handcrafted cocktail with intriguing flavor sensations than for a regular gin & tonic."