Collection
Nobis Hotel Stockholm
Opened in 2010, our 201-room Nobis Hotel Stockholm is the flagship hotel in our Nobis Hospitality Group. Occupying two magnificent historic buildings in a prime location in Stockholm's Norrmalmstorg Square, Nobis Hotel represents our own personal definition of the concept of contemporary luxury.
This concept means a hotel that is extremely comfortable and efficient but also warm, personal and friendly, devoid of traditional luxury gimmicks. We like to think that when staying as a guest in Nobis Hotel you have a front row seat to the best of what the Stockholm scene has to offer. The hotel is very much a part of the pulse of the city — but also a soothing refuge when you prefer. Two new versions of Nobis Hotel are under development in our group — one in Copenhagen and one in Palma de Mallorca.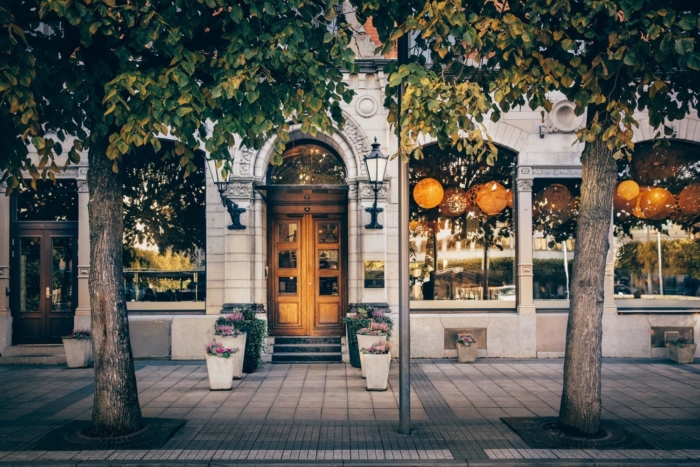 "Nobis Hotel is the flagship in our group. It was a privilege to open a hotel in this location. I must say that the hotel turned out in almost every way as we envisioned it. Of course it will continue to evolve but I don't want to change anything major. My dream for the future is to keep maintaining the same high level in every detail, day after day, year in and year out."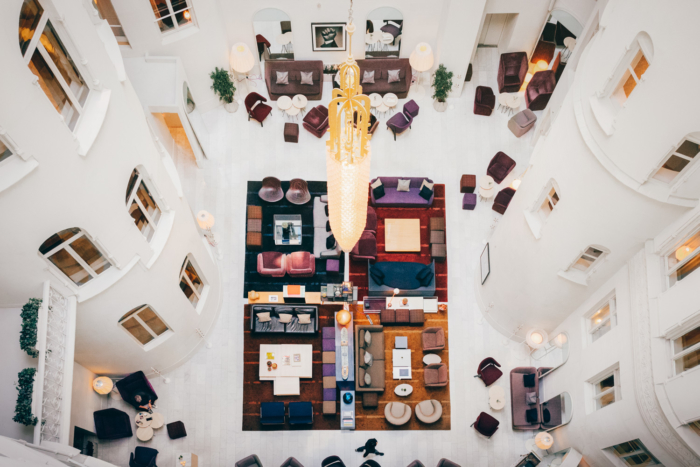 Contemporary luxury hotel Nobis Hotel Stockholm — opened in 2010 in two historic landmark buildings on Norrmalmstorg square.
Rooms & Suites
The feeling in our rooms is peaceful, soothing and sophisticated, with genuine, superior quality materials and mellow color scales, inspired by the "muffled" color palette of winter Stockholm. We have used carefully selected, predominantly natural materials that age with grace, such as various wools, wood, stone, leather and glass. The sense of luxury comes from optimal comfort and function and a cool, calm ambience without excesses.
Our rooms are comfortably spacious, but without unnecessary excess space. We also offer a number of lower-priced carefully planned compact rooms. The lighting is elaborate and very important in the rooms' atmosphere. The bathrooms add an extra touch of luxury with floor-to-ceiling Carrara marble. 
Our suites all have their own individual characters, designed to serve both professional and romantic purposes. They are all embellished with richly ornamented nineteenth century detailing contrasting both dynamically and harmoniously with razor sharp modern designs, objects and details.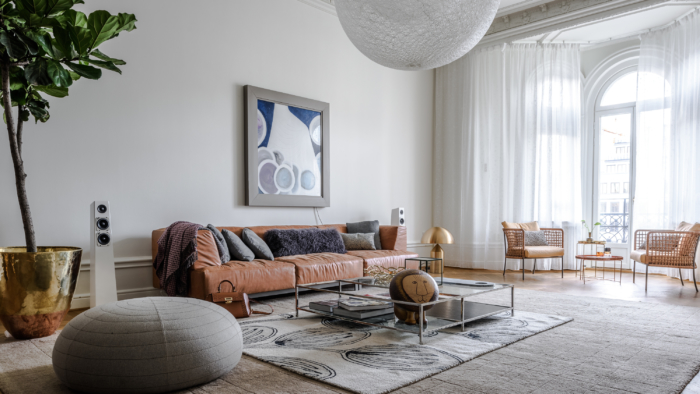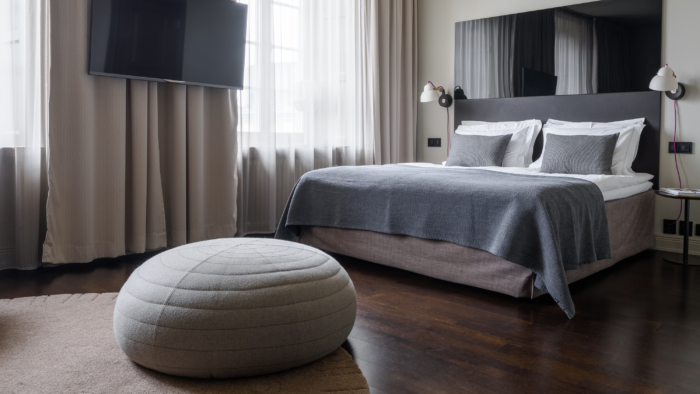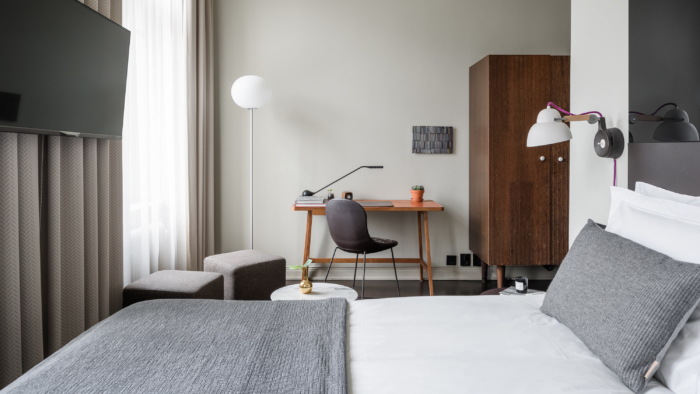 "If we can serve our ten thousandth guest with the same enthusiasm that we served our first, then we have achieved something."
Restaurant NOI
Modern European cuisine flavored by a Swedish vision
This spring, downtown Stockholm welcomes an exciting new dining experience with Noi, a modern restaurant located inside Nobis Hotel Stockholm that appeals to international gourmet seekers and locals alike. Presenting a litany of cross continental flavors and influences, the seamlessly styled eatery is destined to become the jewel in the crown of this landmark hotel.
Noi presents an inspiring menu that draws on gastronomic influences from all over Europe. Dishes such as Kalix bleak roe with almond potato purée, fried shallots and almond potato chips, and spice-roasted duck breast with yellow beets, fried brussels sprouts and fig gravy are crafted from high quality ingredients that place an emphasis on seasonality and freshness. 
Set amongst an oasis of Scandinavian design, the new restaurant marries a sense of individuality with a uniquely Swedish brand of luxury. Aesthetically, this manifests itself as a low-lit subterranean space lined with circular booths upholstered with olive green leather, mosaic parquet and walnut paneled walls. Designed by the pre-eminent Swedish architect firm Wingårdhs Architects — the same team behind the Nobis group's newest property, Nobis Hotel Copenhagen — every facet of Noi is fed by a consistently natural material selection that includes leather from Tärnsjö and black marble, which has been carved into a standout bar.
The result is an elegant dining room equally suited to formal gatherings and jovial dinners; a natural extension of the hotel, which since opening in 2010 has drawn both visitors and locals to its remarkably relaxed ambience. With a prime spot on the historic Norrmalmstorg Square and easy proximity to Nobis' equally atmospheric Gold Bar, Noi is a hotspot that is here to stay.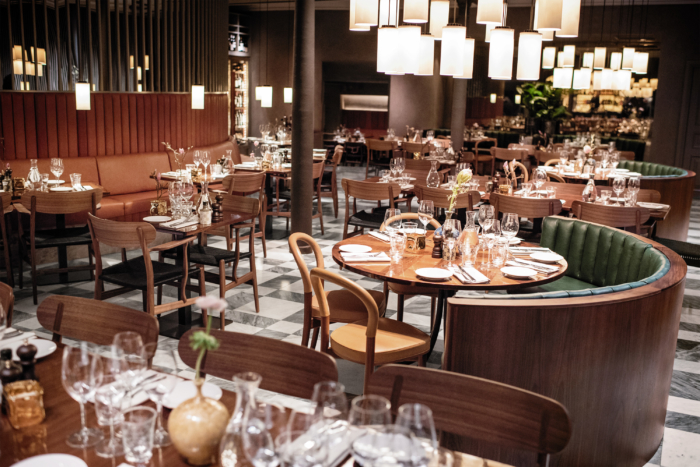 Modern European cuisine flavored by Swedish vison in Restaurant Noi.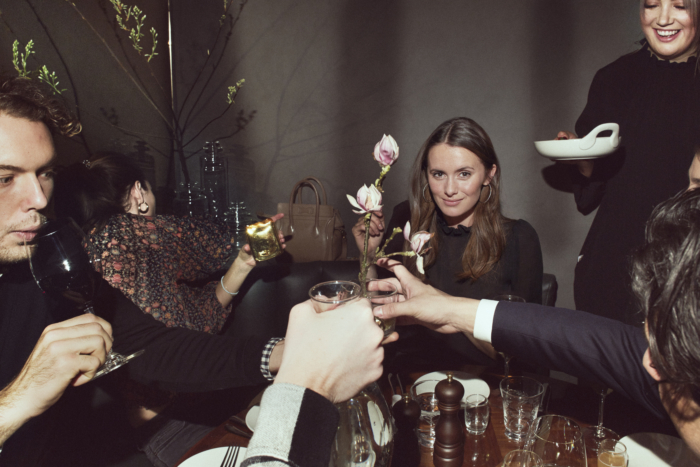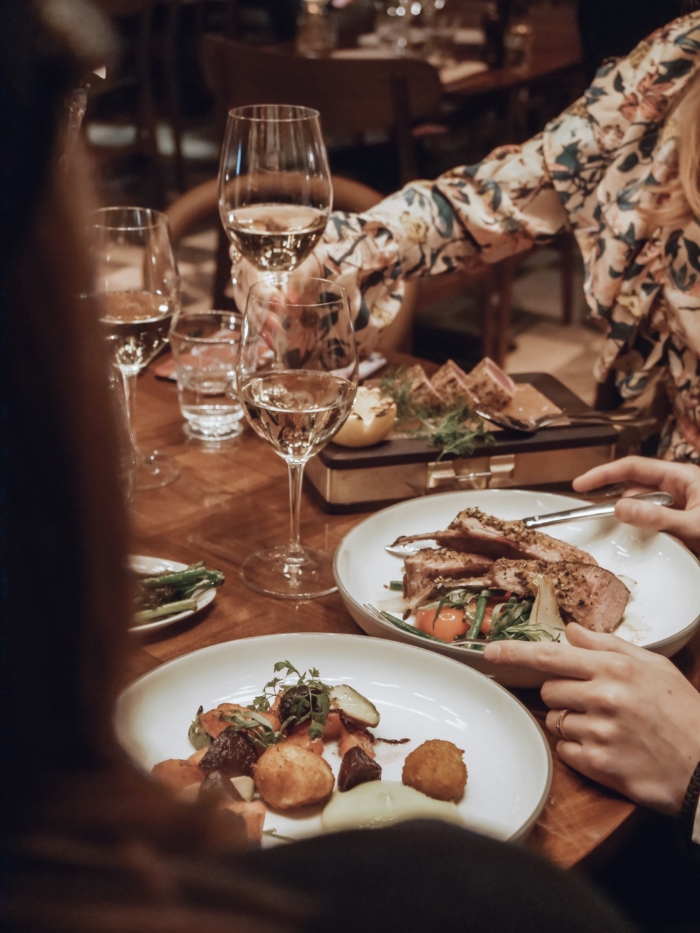 Restaurant Bino
Bistro Nobis, or Bino, is a modern bistro that serves delicious dishes with inspiration from around the world. How about steak tartare of swedish beef or fresh pasta with ragù made of prime rib, red wine, ''San Marzano'' tomatoes  & bay leaf?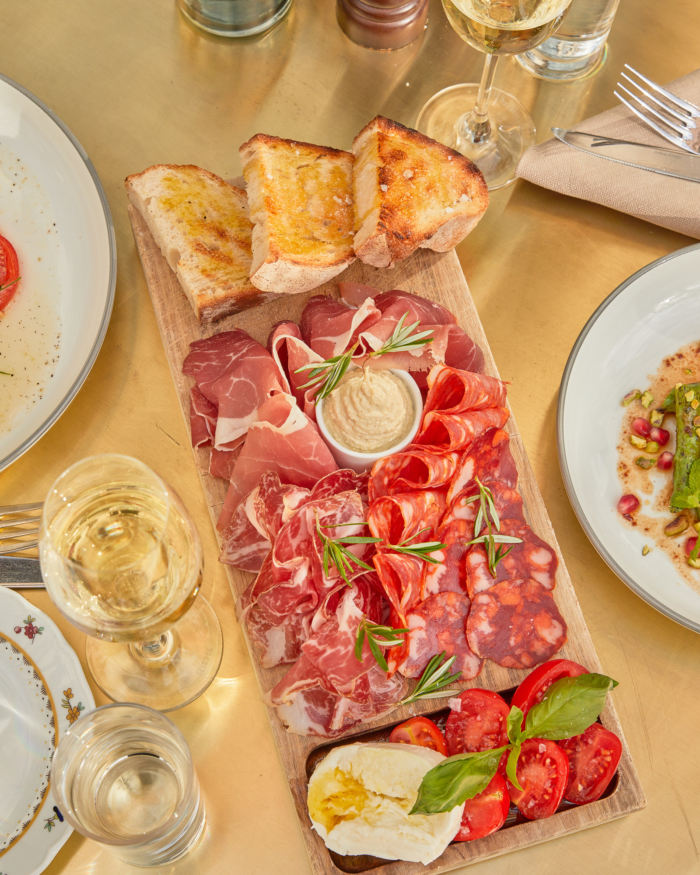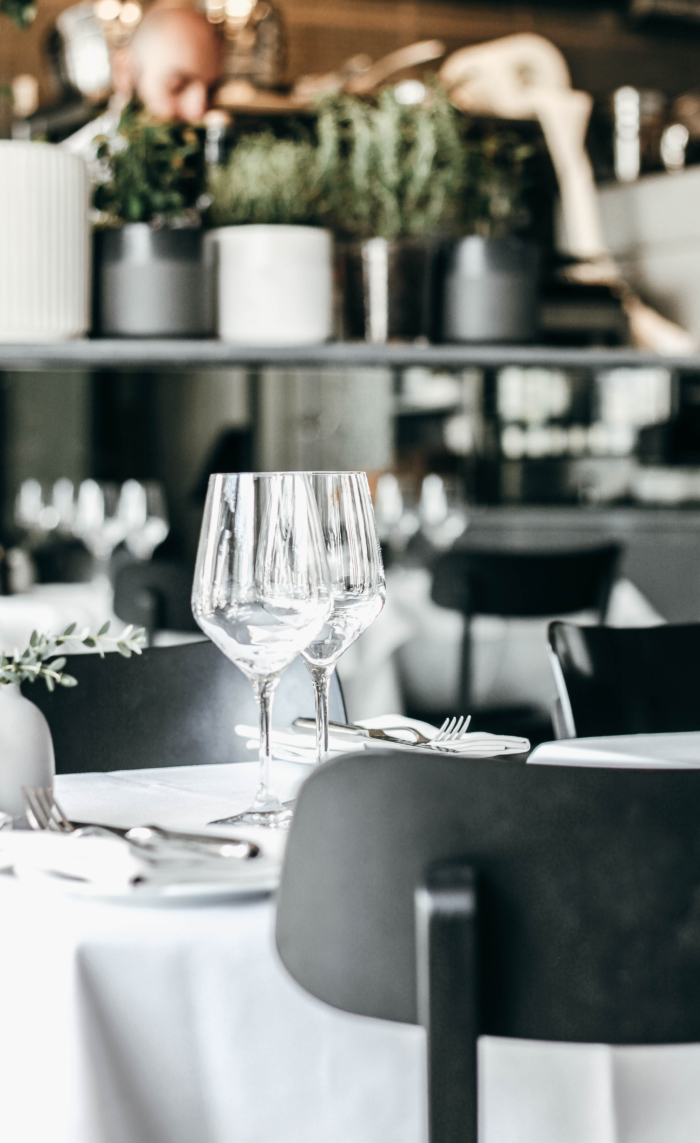 The Gold Bar
Clad entirely in golden mirrors, with exclusively designed signature brass cocktail tables, our intimate Gold Bar really shines and glows like a secret magic shrine in the night. Here our award-winning bartenders serve the most fresh and elaborately handcrafted, irresistible cocktails, classic and old-fashioned as well as new, innovative and experimental. Our ambition has been to create not a hotel bar but a cool cocktail bar housed in a hotel. Of course we have our signature cocktail — the Strawberry Basil Smash — a fresh and irresistible must-try!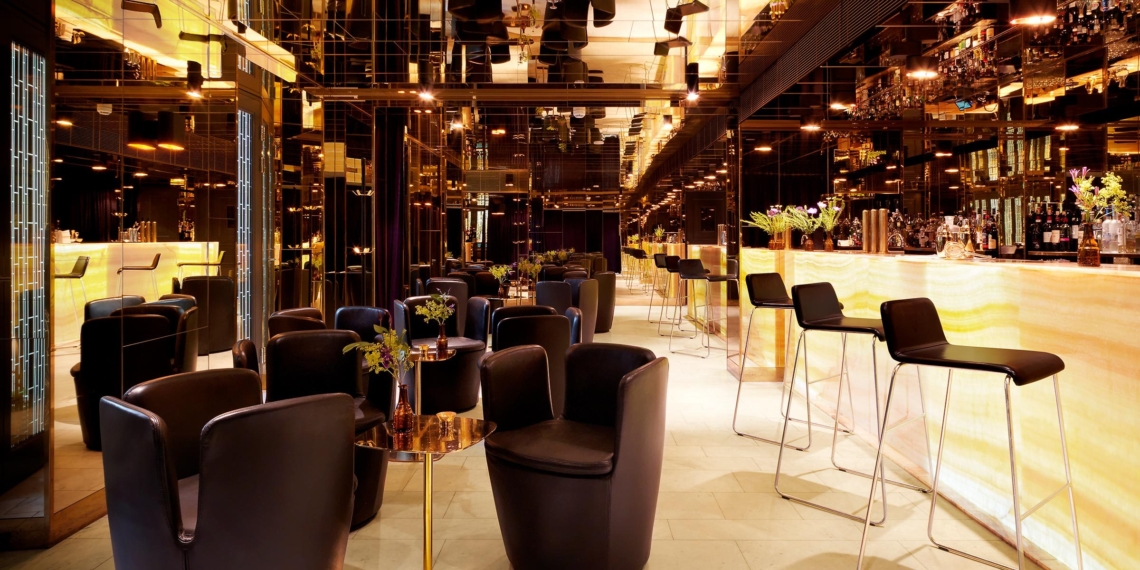 Conference & celebration
The Nobis Hotel's more than eight hundred square meters of public spaces function as a meeting venue and setting, not only for our guests, but also for Stockholmers and other visitors in our city. Stockholm meets the world in these unique premises. Here we also stage a variety of events for specially invited audiences, particularly in the fields of art, fashion, design and music, to which our guests are of course more than welcome. Our private rooms are also popular for private as well as professional cocktail receptions, parties, launches, presentations and celebrations.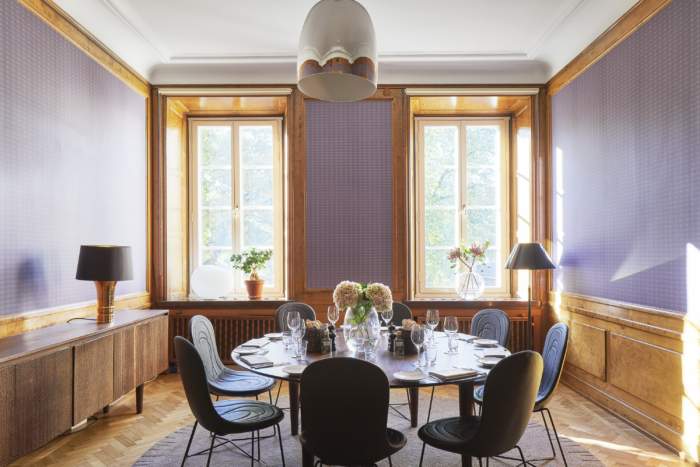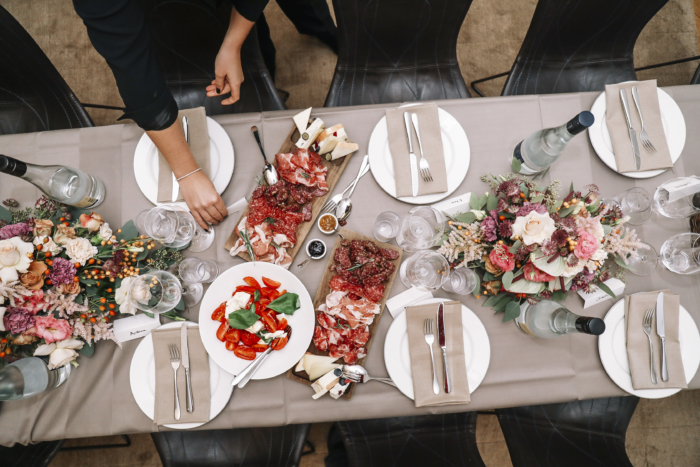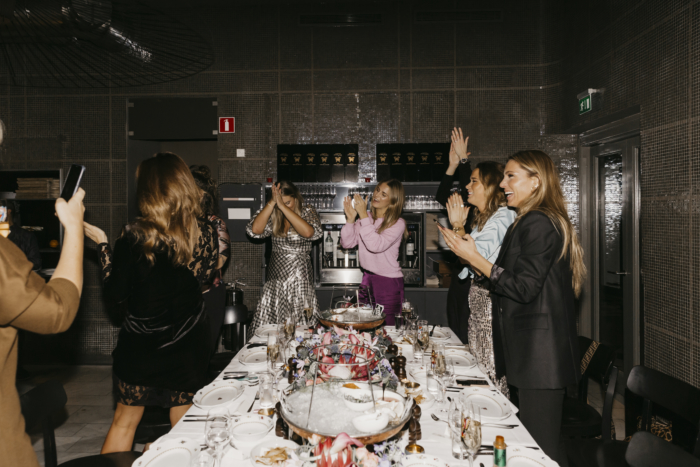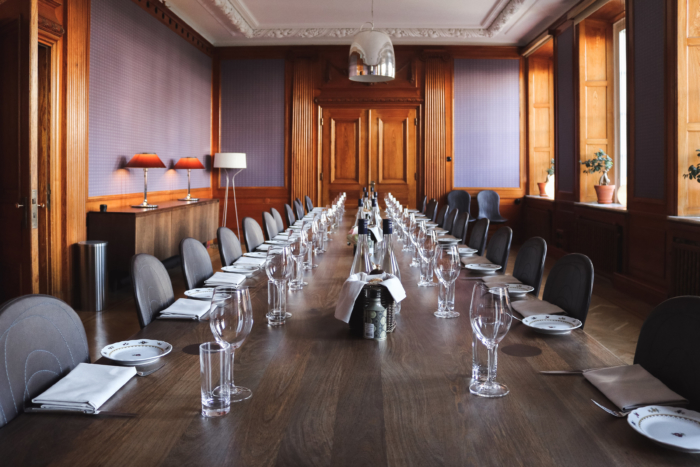 Nobis Private Rooms, an elegant suite of five meeting rooms.