Collection
Nobis Hotel Palma
Nobis Hotel Palma
In Summer 2023, Scandinavian based Nobis Hospitality Group will open a five-star contemporary luxury hotel in Palma de Mallorca, Spain. Nobis Hotel Palma will offer 37 rooms and suites, an in-house restaurant and bar, a sun terrace with loungers and a relaxing SPA – all designed by award-winning Swedish firm Wingårdhs and Spanish architects Jordi Herrero Arquitectos and Eduardo Garcia Acuna Arquitecto. The property is housed in a historical building dating all the way back to the 12th century. Ideally positioned at Carrer de les Caputxines in a peaceful part of the charming Old Town, guests will find themselves within walking distance of many of Palmas finest restaurants, attractions, and must-sees.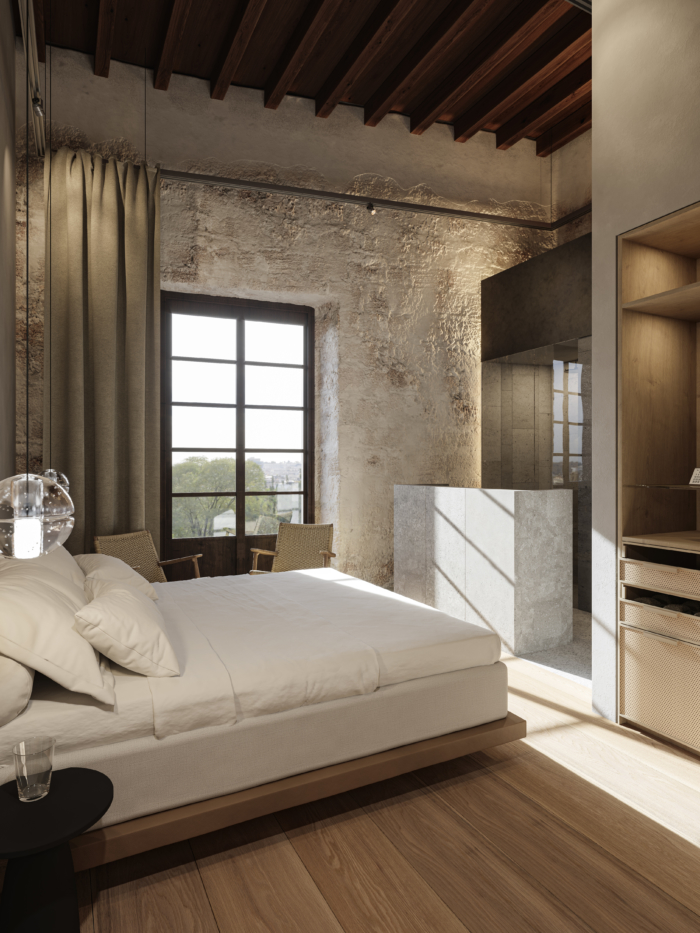 Rooms and Suites
Nobis Hotel Palma offers 37 guest rooms and suites, all steeped in the laid-back elegance and contemporary luxury that is a Nobis Hotels signature trait. Every room is a one-of-a-kind experience with a unique shape and size. The designers at Wingårdhs have paid attention to every little detail of the room, creating a well-designed and comfortable space accentuated by timeless materials and high-quality design pieces. The small number of guest rooms promises intimacy for overnight guests seeking a peaceful get away from the bustling streets of Palma.
History
Originally constructed as a Muslim palace in the medieval Islamic stage of the Balearic Islands, the 12th-century building is one of Palma's oldest. Archaeological studies tell a rich history of at least seven stages of the building, stretching over nearly a thousand years. 
 The original Muslim palace from medieval times was organized around two symmetrical interior patios that have been maintained as a guideline to the present. In the reception of Nobis Hotel Palma, guests can admire a wooden Alfarje - a paneled ceiling with a decorative element of the Arabic calligraphy Nashk writing, intended to protect its inhabitants - that miraculously survived a 13th-century fire, an earthquake, and all later stages of constructions. At the time of its original construction, the Sant Jaime Church which is today a neighbor of Nobis Hotel Palma was one of Mallorca's most prominent mosques, built as part of the Muslim Palace. 
 After the Christian conquest in Mallorca in 1229, the building functioned as a fortification that included a neighboring house, before it was ordered to be burnt down by King Alfonso III of Aragón at the end of the 13th century. The site remained in ruins for at least 100 years and later became private homes for noble Majorcan families. The palace was rebuilt in a Gothic style in the mid-15th century and later reformed as a baroque-style palace in the 17th century.
The transformation of the historical building has been done together with architects at Spanish firms Jordi Herrero Arquitectos and Eduardo Garcia Acuna Arquitectos, in close collaboration with Swedish architects at Wingårdhs, the award-winning firm under the leadership of Gert Wingårdh and architect Helena Toresson.