Collection
Concepció by Nobis
Situated in an enviable location where the Old Town meets Santa Catalina, Concepció by Nobis captures the spirit of Palma de Mallorca and is ideally positioned to take in some of the city's most emblematic attractions. Originally built in 1576 and once a soap factory, the historical property now presents a warm and relaxed oasis for both travellers and locals, with 31 guestrooms and suites, an in-house restaurant and lounge, and spaces for meetings and events — all designed by award-winning Swedish firm Wingårdhs.
Steeped in cultural heritage and defined by modern amenities — including an outdoor pool and modern gym — Concepció by Nobis is a warm celebration of Palma's past and present.
Steeped in history and reflective of the ongoing revival of both Palma's Old Town and the Santa Catalina district, Concepció by Nobis anchors the revival of two of the city's most historic quarters. Blending Mallorcan heritage with contemporary sophistication, the hotel is based in a 16thcentury building, which has been sensitively renovated to create a characterful property that is a compelling merger of Palma's past and present.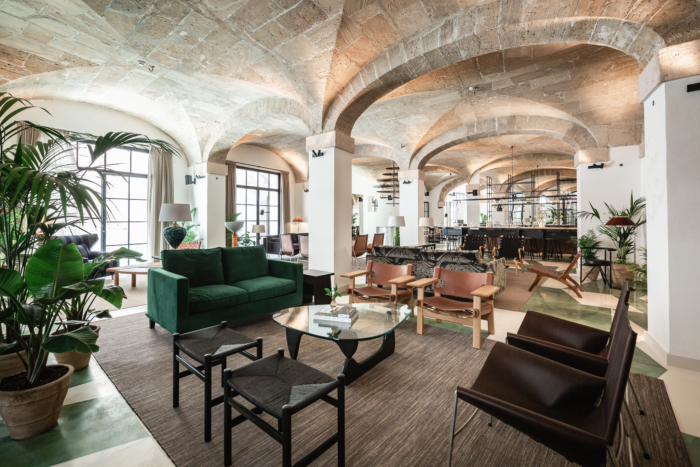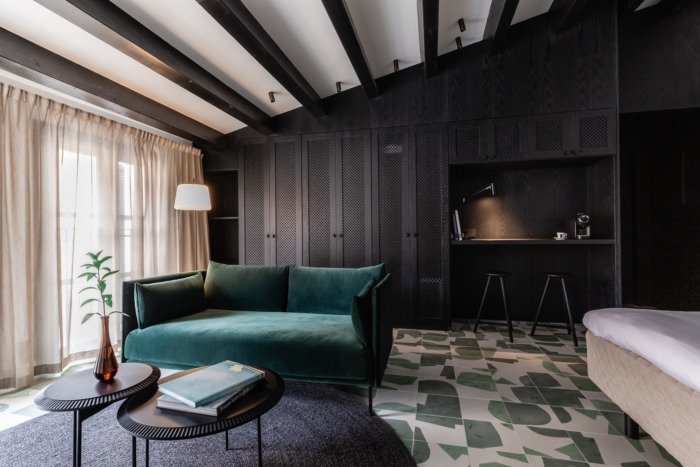 Guided by co-lead architects Helena Toresson and Gert Wingårdh of Stockholm-based firm Wingårdhs, the design concept for Concepció by Nobis evolved from the property's unique layout and original features, which together provided an inspiring canvas on which to build. Here, open and connected public areas have been paired with a small number of guestrooms to create an exceptional backdrop upon which modern accents, historical details and bespoke elements harmoniously coexist.
ROOMS
Blending locally crafted details with contemporary aesthetics, each of the rooms and suites at Concepció by Nobis presents a soothing retreat from the buzz of Palma. Across the guestrooms, custom-made accents, and furniture and textiles that reflect the spirit of both Mallorca and Nobis' Scandinavian heritage are married with modern amenities in spaces designed by Stockholm-based firm Wingårdhs. With just a small number of rooms, the hotel promises intimacy and peace for overnight guests — a real treasure in this bustling heart of the city.
Concepció by Nobis is home to 31 rooms and suites across seven categories that range from the cosy Small Double to the one-of-a-kind Terrazza Room.
May we suggest that you combine your stay with a cooling drink in our magnificent lounge and a sunny visit to the pool area.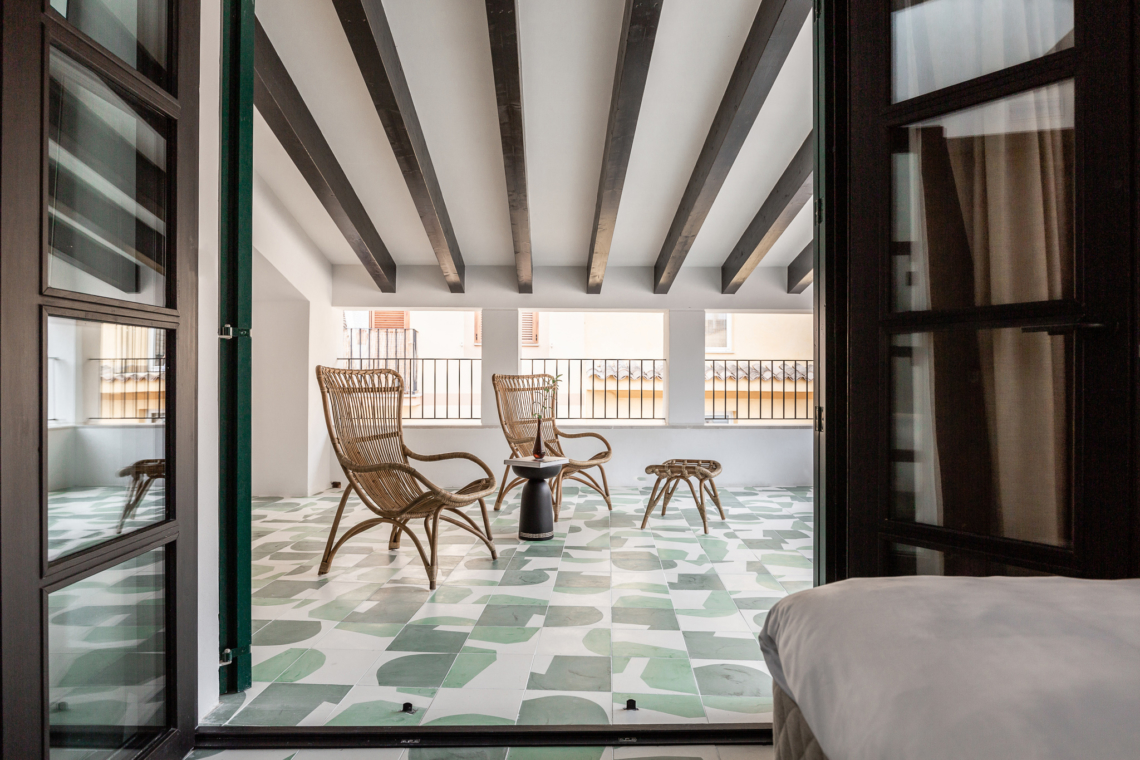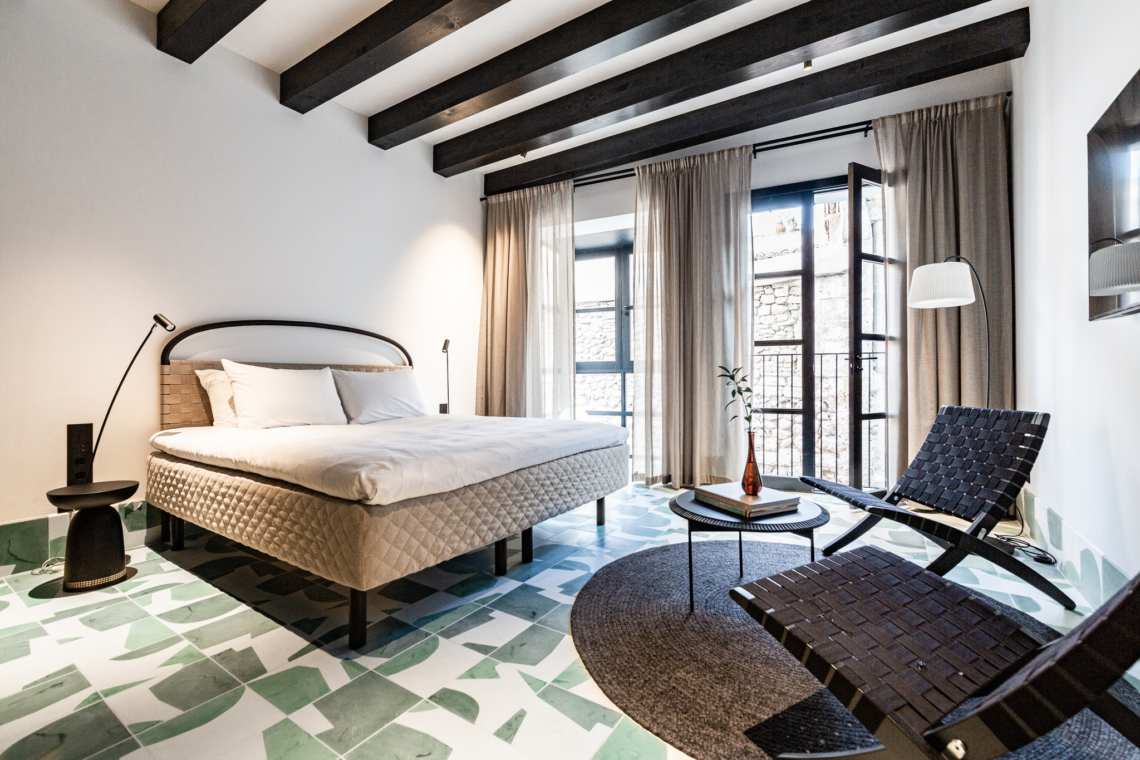 Restaurant Xalest
Offering locally inspired cuisine prepared with Chef Xema Álvarez's modern touch, Xalest is open to both guests and visitors for lunch and dinner. From tapas and pintxos, to appetisers and entreés, dishes are designed for sharing and fully embrace both Mallorcan food culture and the Spanish way of dining.
Characterised by a relaxed atmosphere and a contemporary setting, the sophisticated ground floor restaurant is an easy and convivial space to in which to eat, drink and socialise. Start your meal with tapas and an expertly crafted drink at Xalest's all-day bar, or maybe end the night in the attached lounge, a chilled gathering spot for visitors and locals alike.
Bar
From early aperitifs to sundowners and nightcaps, the bar at Concepció by Nobis is an atmospheric spot in which to enjoy a range of drinks throughout the day. Here, old school bar concepts are reimagined in new and original ways and are presented alongside little-known regional wines and bespoke cocktails crafted with local ingredients. It all comes together in a chic and urban setting where an intimate and laid-back ambiance are complemented by a soundtrack of smooth beats.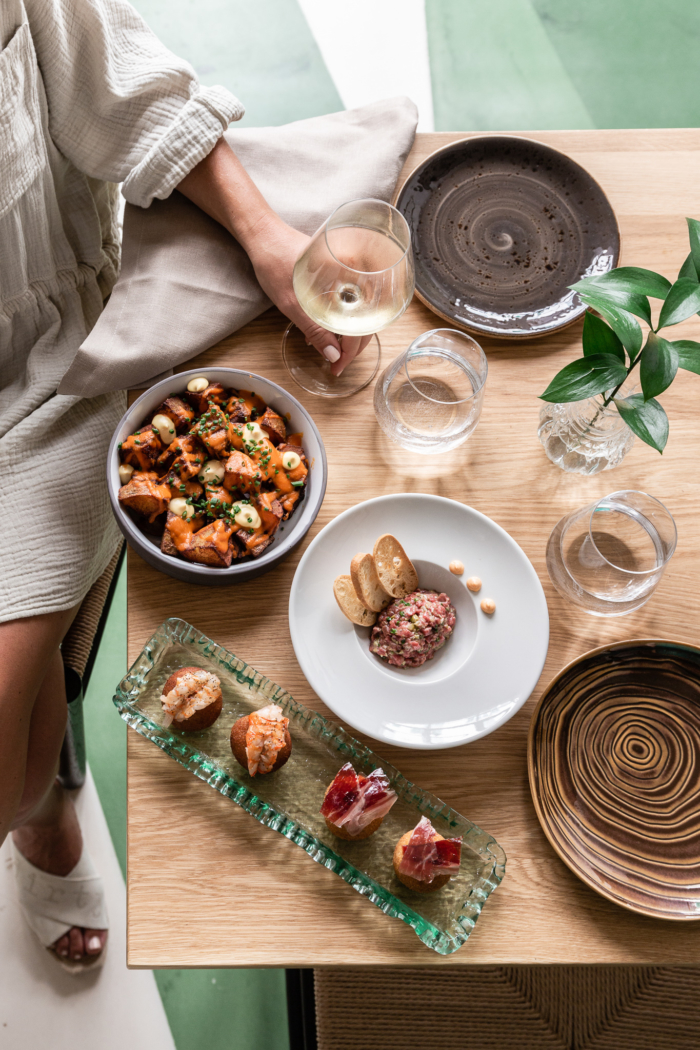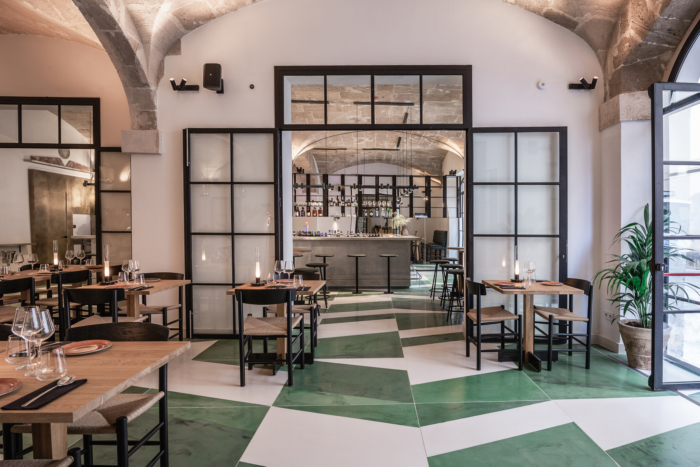 Open to all, the bar invites visitors to settle in with a glass of wine, a cocktail or a light snack beneath vaulted ceilings, while soaking up the atmosphere of the neighbouring Xalest restaurant.
Pool and Terrace
A tucked away oasis that combines a sunny terrace with an outdoor pool and gardens, Concepció by Nobis' patio area is one of Palma's best kept secrets. Open exclusively to hotel guests and their visitors, the terrace combines an abundance of local plants, patio seating, and sun loungers with a pool and lush gardens, all of which come together for a distinctly Mediterranean feel. Seek respite from the heat on the terrace's shaded pergola with a refreshment and fully indulge in the breezy mood of this secluded corner.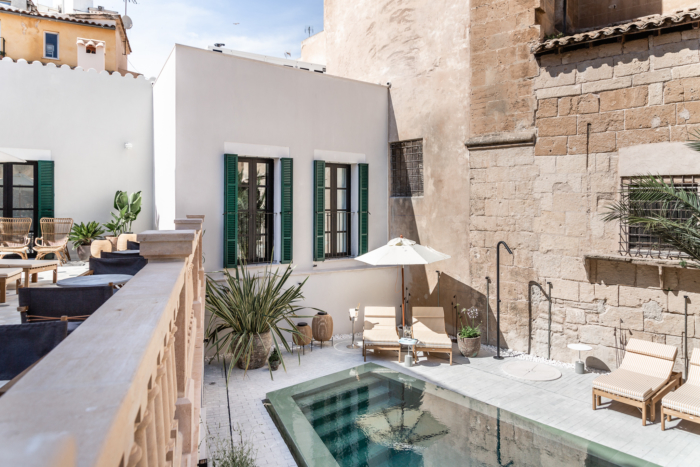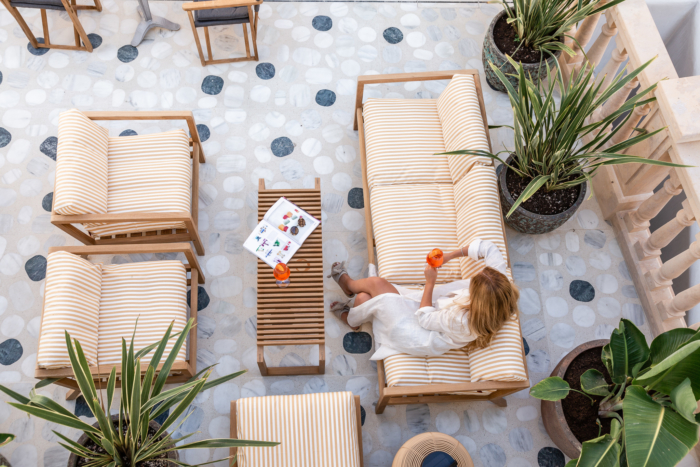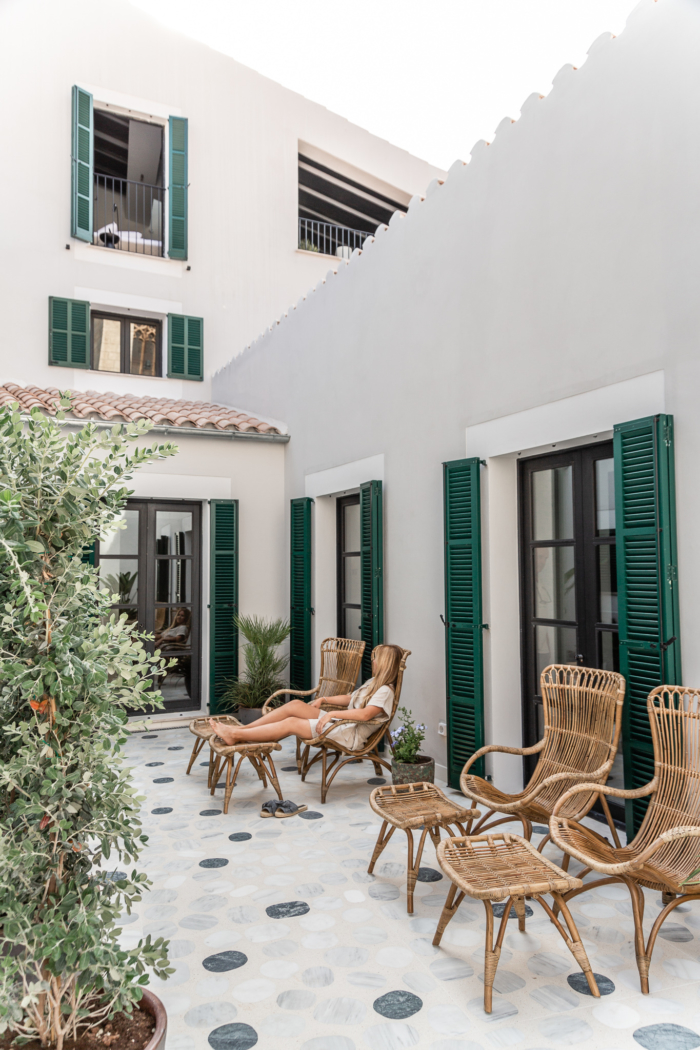 Lounge
The beating heart of Concepció by Nobis, the lounge is a buzzy year-round hub in which guests can meet, work, play and rest. Spacious and featuring its own distinct areas, the ground floor lounge is also where hotel guests are served daily breakfast and is filled with local plants, large communal tables and plenty of spots to sit for both spontaneous get-togethers and quiet moments.
Along with the neighbouring lobby, the lounge is also notable for its original features, such as vaulted ceilings, which are blended with glass partitions, vintage furniture and bespoke ceramic tiling by local ceramics specialists Huguet. A stylish refuge from Palma's heat in the summer months, and a warm and inviting den come winter, the lounge is a sophisticated city treasure that is suited to all moods.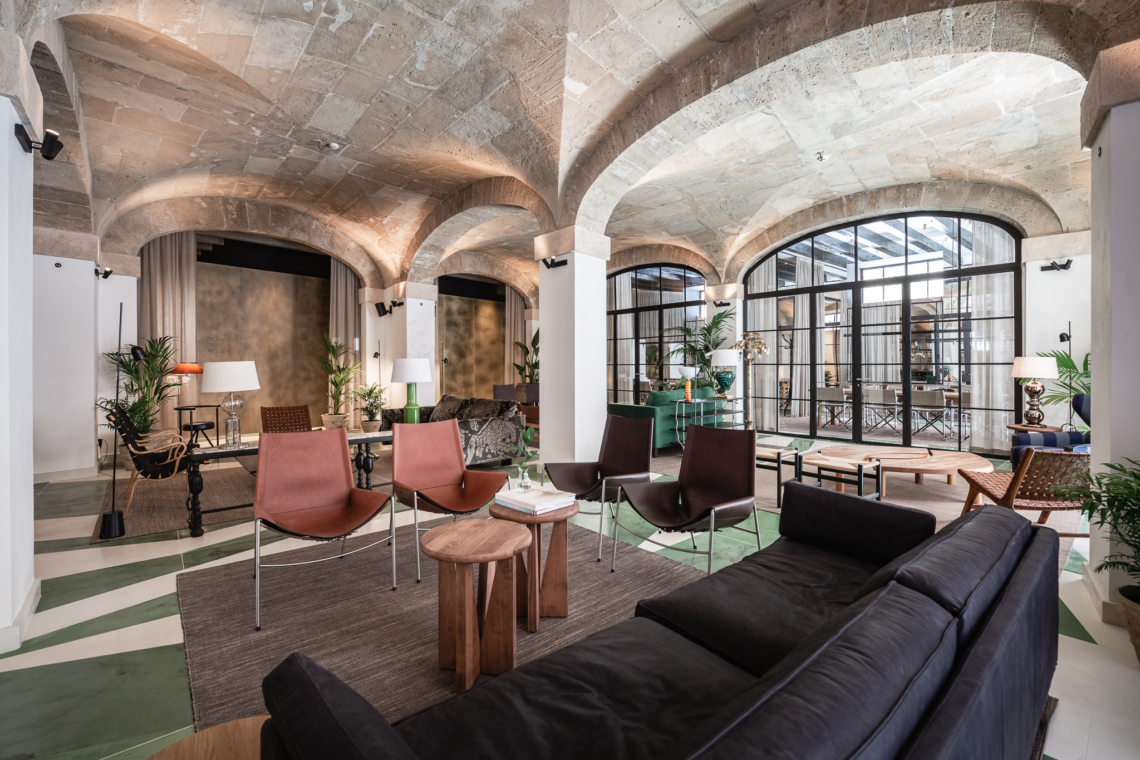 Meeting & Event
Featuring both a meeting room and a chambré séparée, Concepció by Nobis is well-placed to host a range of gatherings and events. Whether looking for a room for a meeting, a space to host a business event or an area for private celebration, the hotel has a range of setups and configurations available for your special day.
Both rooms are also ideal for hosting formal and informal private dining experiences with bespoke menus from restaurant Xalest. Framed by the original architectural features of this historical building and elegant design by Swedish firm Wingårdhs, indulge in a customised dining experience hosted in a memorable setting that will bring your private meal to life.
Working with you to provide the best possible layout, vibe and cuisine, the Concepció by Nobis team offers a personalised service tailored to your needs and that of your guests.
In addition to the two private meeting rooms, the hotel also features a lounge area is that is suitable for more informal gatherings.