Collection
Blique by Nobis
In Spring 2019 Nobis Hospitality Group opened a new hotel in the new neighborhood Hagastaden. The property was originally a warehouse for the company Philips, and was built in 1931, under the leadership of architect Sigurd Lewerentz. 
The old Philips building was transformed into an urban 249-room hotel by Wingårdhs Architects and consist of spacious social areas, two restaurants, bars, flexible meeting rooms, capacious event spaces, a roof top terrace with a fantastic view and a large-scale courtyard where plants. Blique by Nobis is a contemporary community where architecture and design co-exists with the art of social interaction. 

Blique by Nobis is a contemporary community where architecture and design coexists with the art of social interaction. The property consists of a hotel, two restaurants, several bars, flexible spaces for meeting and events, a courtyard and a rooftop bar with a breathtaking view over Stockholm – all housed in a fantastic building that was planned and constructed by the famous architect Sigurd Lewerentz, known worldwide for his beautiful work. We're honouring the work of Lewerentz by bringing strong elements of architecture, design and other creative fields in to the building.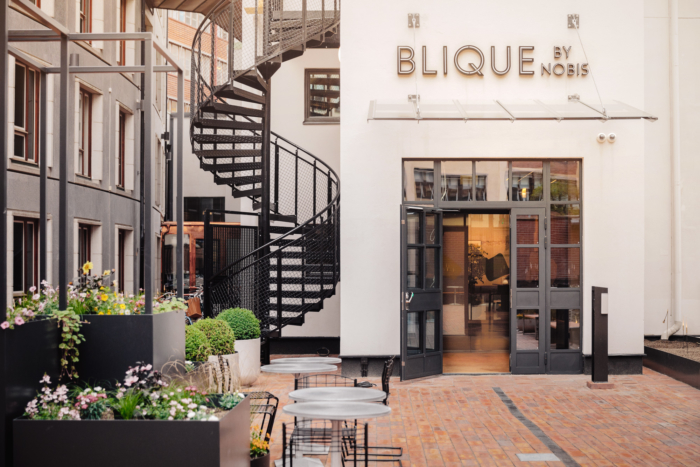 Blique by Nobis is located right where the up and coming district Hagastaden blends together with popular Vasastaden. The neighbourhood is also known as Stockholm gallery district, with several art galleries just around the corner. The location offers endless possibilities for you to explore the artistic side of this capital, together with the many gastronomic restaurants, innovative bars, shopping gems and other hot spots that Stockholm has to offer.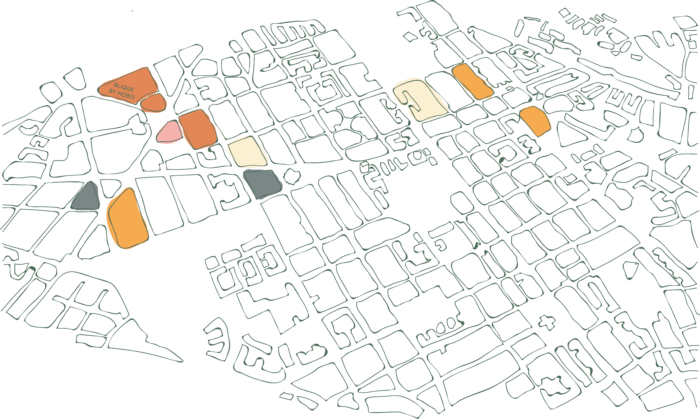 Rooms
The rooms at Blique by Nobis are space efficient and well planned by our favourite architects at Wingårdhs. About half of the rooms are housed in what was once a warehouse for Swedish Philips, landscaped by very famous architect Sigurd Lewerentz almost 100 years ago. The other half of the rooms are housed in a softly arched rear house from the 90's. 
The Sleep rooms
The Sleep Room category is a perfect choice for high-performing individuals looking for a sleep-friendly room with restorative qualities to soothe them after yet another creative day. Scientific research have shown that the brain of a creative worker requires more recovery than others. This is because creativity pulls extra sources of energy from your brain, causing it to crave some well needed laze before performing its super powers again tomorrow. This room category offers restorative Sleep Tight'n'Deep rooms without windows, designed by our favourite architects at Wingårdhs. The rooms are space-efficient, well planned and comes with a bonus: unlimited access to the generous social spaces of our community at Blique by Nobis. Work in the urban lounge and spend the night at the roof top terrace with a view, before crawling back to your room for a beauty sleep that will never be disturbed by the early morning rays of sunshine or the bright Swedish summer nights.
... or, if you simply want to sleep tight, but rather spend your time and money exploring Stockholm than on your hotel room – please be our guest. Have fun and sleep deep! 
Blique rooms
Our Blique rooms are for those of you that would like to stay in a friendly room with a timeless design. The rooms are space-efficient and well-planned by our favourite architects at Wingårdhs. When you're not spending time in your room, you have unlimited access to the generous social spaces of Blique by Nobis – like the urban lounge, the restaurants and the fabolous roof top terrace with a magical view. Choose between Blique's Queen, Blique's Double or Blique's Superior. 
Studios
The Studio category is a perfect choice longer stays. We offer a one room apartment in the heart of Stockholm's gallery district, with all the facilities of a contemporary hotel. Double bed, bathroom and a fully equipped kitchenette is provided, together with all amenities you need to feel at home away from home, such as Marshall-speakers and cast function for the TV. Yoga mats and blenders can be borrowed free of charge from the reception. Cleaning is provided on a weekly bases, but can be requested more often at an additional fee. Pre-ordering of groceries to the room before arrival is also possible. At the same time as you're staying in a fully equipped studio, you also have unlimited access to all services and facilities of a hotel, such as our spacious lounge, the outside courtyard, two restaurants and several bars. All Studio-guests are offered a 25% discount in our restaurants at Blique by Nobis.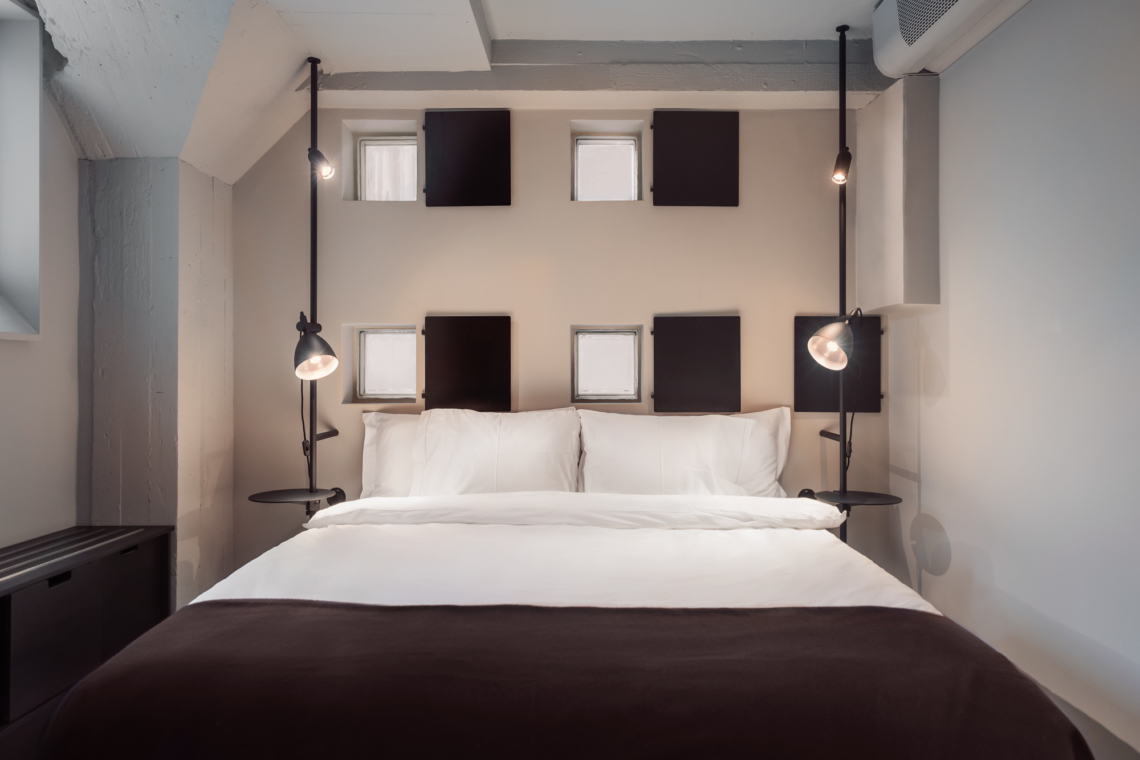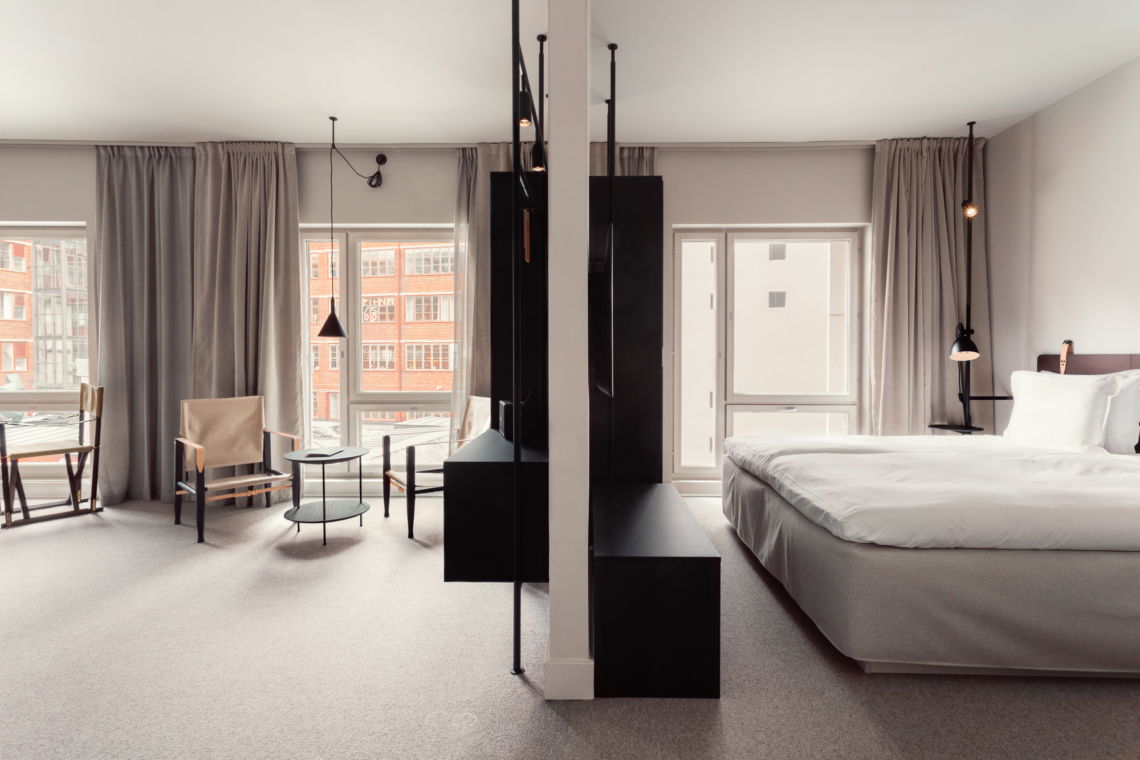 Arc Rooftop
Arc is our rooftop restaurant and bar where you can soak up the beautiful view of Stockholm. Here, we focus on a Ssäm-style Korean sharing menu. We also serve an á la carte menu with pan-Asian courses. As the evenings get warmer, we open the outdoor terrace and serve refreshing cocktails with a view. Here you can expect fresh and modern offerings that emphasise the use of local ingredients, organic herbs and vegetables. It's all accompanied by a beverage menu of highballs and a premium selection of wines and sake.
Boketto
Sweet breakfasts, savory lunches and vibrant weekend brunches. Welcome to restaurant Boketto, a dining experience in an elegant and urban setting. The food at Boketto is inspired by Streetfood we've eaten around the world. Boketto serves breakfast, lunch and weekend brunches.
Origo
Our lounge is the creative hub and urban living room of Blique by Nobis. Come to Origo bar for coffee, cocktails or beers. Work during the day, get into party mode by night with our Friday and Saturday DJs. Do not miss our art exhibitions, right now we are showcasing Marilyn Minter. Defined by an oval-shaped matt black bar — with matt black cocktail equipment to match — Origo is located at the heart of Blique by Nobis.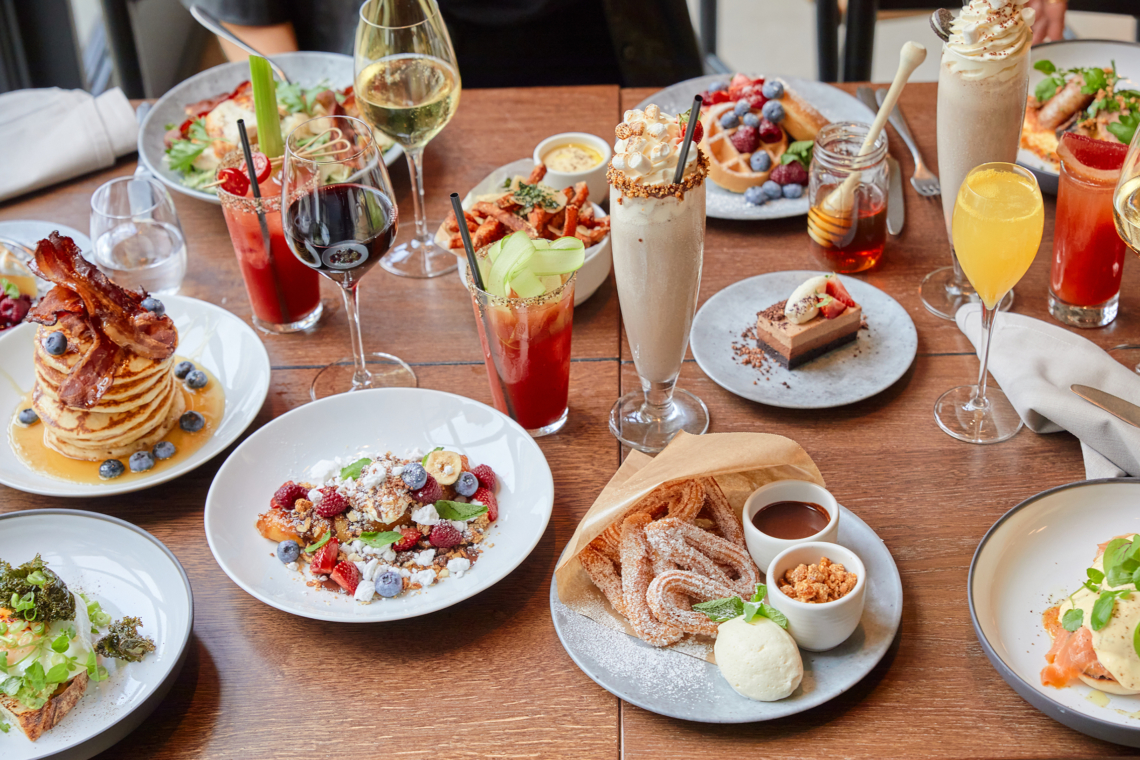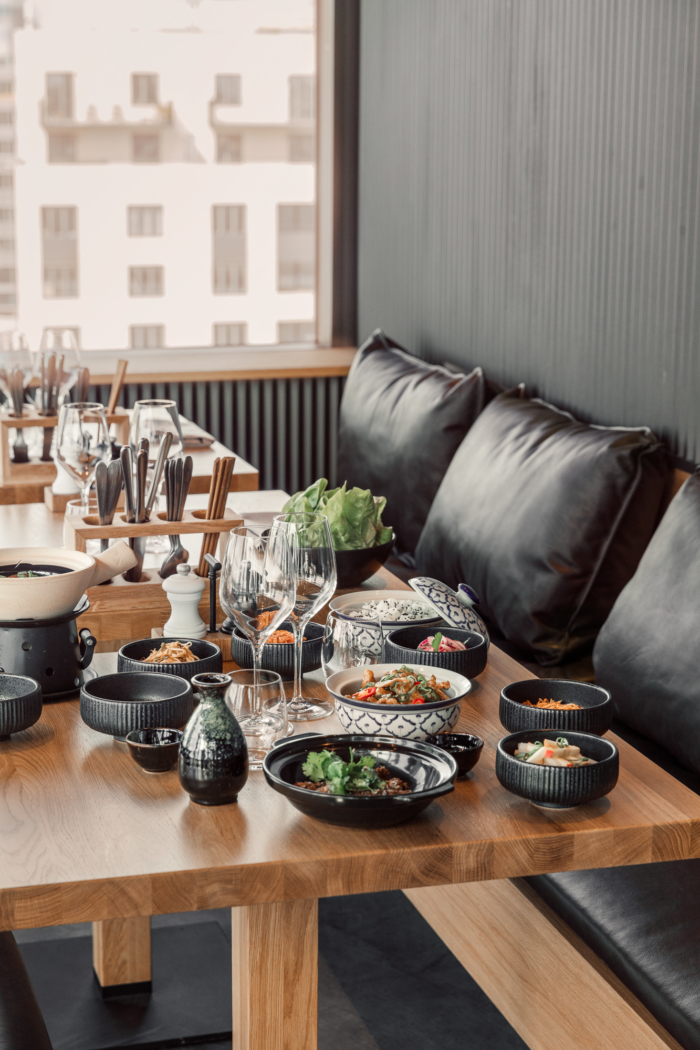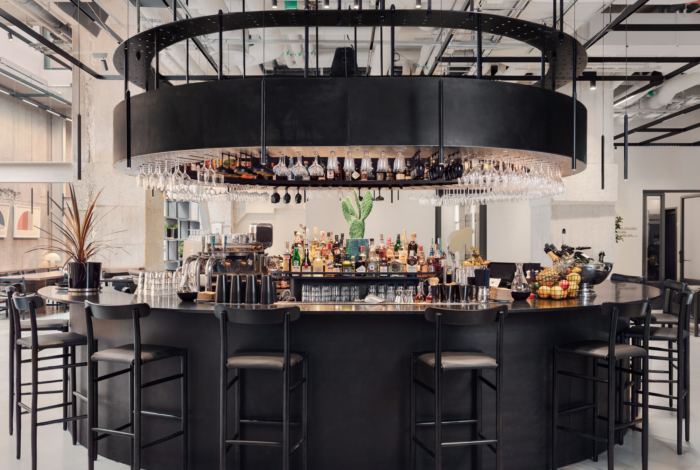 Our restaurant Boketto offers a contemporary food concept in an urban setting. We also offer 2 chambre separees adjacent to the restaurant. 
Meetings and Events
Blique by Nobis offers flexible and generous spaces for all types of meetings and events. The largest event space span over 300 sqm, with natural daylight and the possibility to host 200 seated people or 300 mingling guests. The same space also connects to our large-scale courtyard, making it possible for indoor presentations combined with outdoor mingles, a set-up that is perfect for launches, product placements, parties, exhibitions or any other unique event you would like to create.
In addition, we offer 10 meeting rooms between 13 and 90 sqm, suitable for dinners, meetings, presentations and other types of creative, or non-creative, events. Two of the rooms functions as Chambre Separee's adjacent to the restaurant, and one of them is our very own in-house cinema. Book the cinema for exclusive previews, like soon-to-be-launched music videos or documentaries.
For outside events, you are more than welcome to book our spacious inner yard, suitable for car-launches, barbeques or for hosting your very own vintage market. We also have a two-storey roof top terrace with a fantastic view over Stockholm for more exclusive events. How about yoga with a view?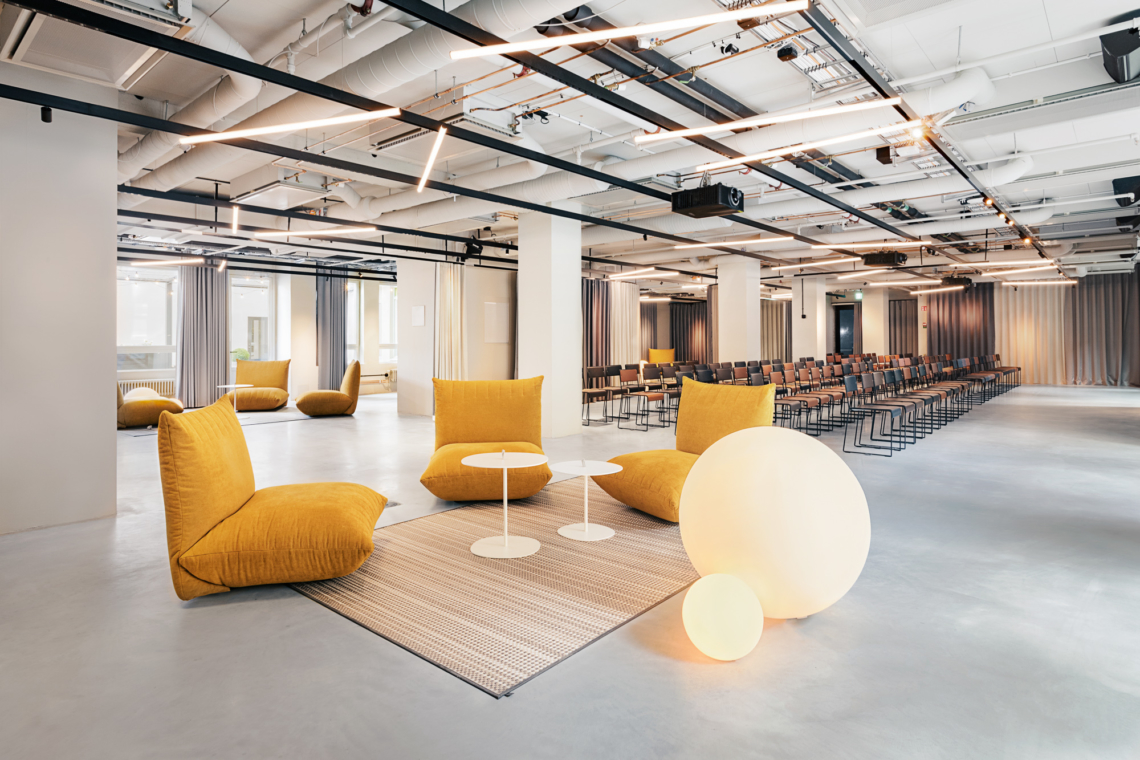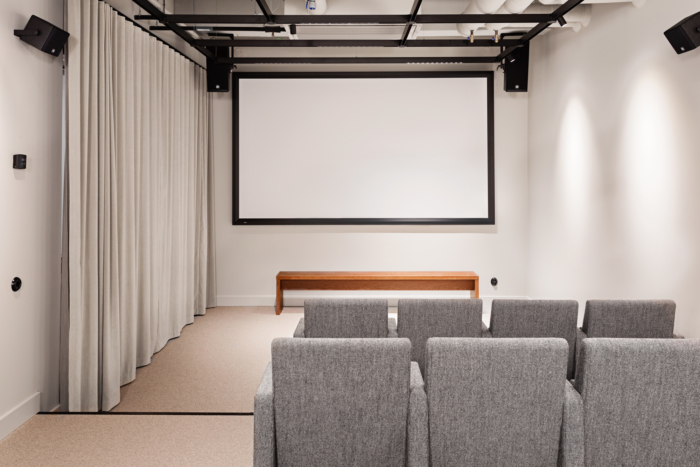 Whether you're looking for a meeting room, the perfect place to host a private dinner or a spacious venue for your upcoming art exhibition – we customize the event and the food based on your specific wants and needs. A cocktail mingle at the rooftop, a pizza- and champagne after work at the inner court yard or a classic seated dinner? The possibilities are endless. Welcome to host your event here in Vasastan, Stockholm.